Lately I've been playing a lot of the awesome hobby that is board games. The last few years have seen a renewed interest in board games likely aided by the internet and its ability to provide crowd funding for a range of new and exciting games. One of these is Zombicide which was funded in 2012 and raised a respectable $780k.
Zombicide is a thematic co-op game for 1 to 6 players. Each player controls between one (for 6 players) and four (solo game) survivors, humans trapped in a zombie-infested town.
Basically lots of dice rolling, zombie minis, crazy weapons… what more could you ask for in a board game.
…
How about more crazy weapons and equipment!
With that thought began my quest for the ultimate Zombicide equipment deck.
Sourcing the images
There are a number of custom card printers but none that I found can print the mini-card size that Zombicide uses so the only alternative is to re-print the entire base deck in a slightly different size. Which sounds like a bad idea if it wasn't for the fact that you can easily and cheaply print cards through a number of online printers such as PrinterStudio and ArtsCow but more about that later.
Guillotine Games has released high-res basic card templates and some of the cards in high-res on their website. However not all of the cards are available online in digital format. After a whole lot of searching online I managed to find that there is a Zombicide companion app.
After extracting all of the equipment card image assets from the app. I now had all 52 unique equipment cards from Season 1, 2 & Toxic City Mall. Time to make some custom cards.
Creating custom cards
Unfortunately I wasn't able to find a equipment card photoshop template that contains all the features I needed so I build a new one which I have included in the download. Using this template I created a bunch of custom equipment cards. Here is a sample of some of the custom cards mixed in with the base cards.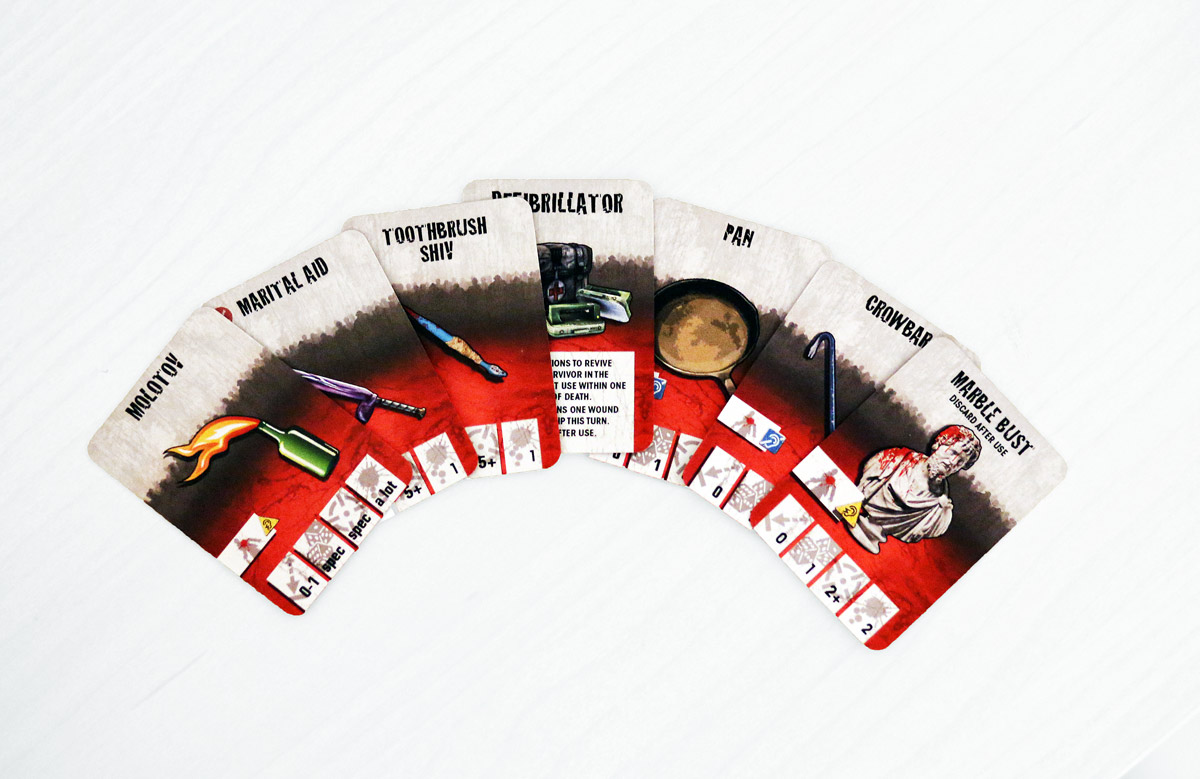 For reference the fonts used are:
Crackhouse
ITC Avant Garde Gothic Std – Bold Condensed
Helvetica Neue LT Std – Extra Black Condensed
Eurostile Bold Condensed
Printing the deck
In order to re-print the equipment decks you will need to print the following.
Edit: See this document for updated list of equipment:
https://docs.google.com/spreadsheets/d/1XLGrwFbj3wk0c37scQS-GoIr4dh_YDeJpOjYveWdH74/edit#gid=1143787238
That works out to 173 equipment cards and 46 wound cards. However you won't need 46 wound cards so I recommend you print around 16-24 wound cards. I printed my deck through PrinterStudio which for a 224 card deck came to $14.60 (Note: these prices have now changed, you may need to shop around or wait for a sale). This gave me 27 cards to use for custom cards after re-printing all the base cards. Here is the deck type I used http://www.printerstudio.com/personalized/custom-blank-playing-cards-mini-size.html.
The finished product