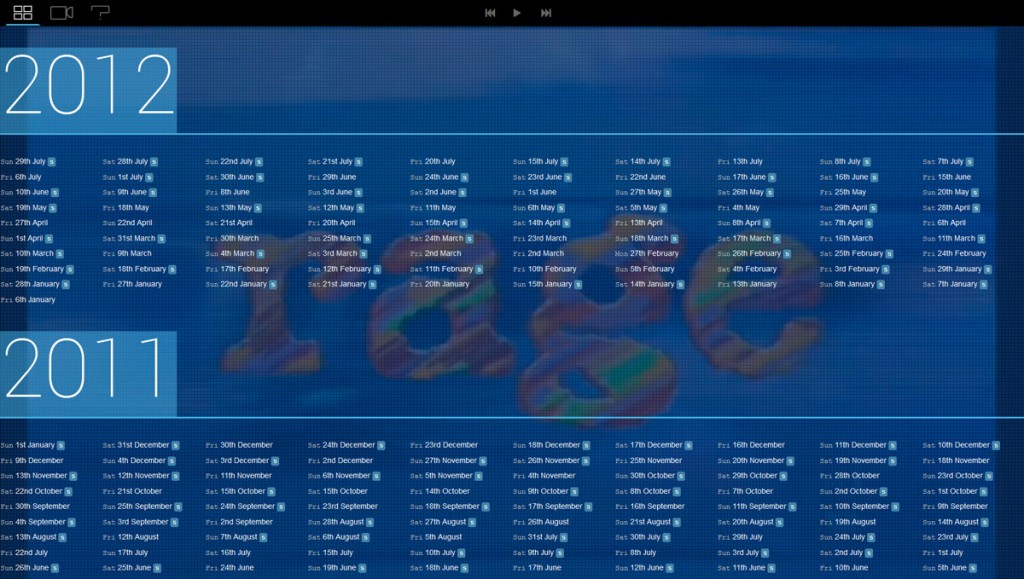 Rage is a popular all-night Australian music video program broadcast on ABC1 on Friday nights, Saturday mornings and Saturday nights. It was first screened on the weekend of Friday, 17 April 1987.
Since 1998 rage has posted all their episode playlists online. So I created a website that combines these playlists with YouTube allowing you to travel back through time and re-experience rage's recent history.
Please note: all the matching of track to video is done programmatically so some tracks particularly older ones may not be available (depending on whether someone has uploaded them).
Behind the Scenes
So this was my first time using the Lithium PHP Framework and so far I have really enjoyed working with it. Since the release of PHP 5.3 I have patiently been waiting to see what frameworks would come out to take advantage of namespace support (and PSR-0), late static bindings, and closures.
I'm sure at this point everyone has heard about Aspect-Oriented Programming and the idea of separating cross-cutting concerns such as logging, debugging, from the program logic of an individual module. A number of the new frameworks are attempting to solve this issue; Zend Framework 2 includes the EventManager, Symfony 2 Event Dispatcher, and Typo3 uses aspects and filters. Lithium's approach seems fairly simple and makes clever use of closures.
One of best parts of Lithium is it's template language (or it's lack thereof). Basically you use normal php code in view files but the content of shortags <= ?> is automatically escaped. I have never been a fan of template languages so I really enjoy this approach and it's great to not have to worry about escaping variables.
The site also uses Twitter Bootstrap, and the Youtube Iframe API.
Checkout the interview with ABC about the site for more details http://open.abc.net.au/posts/jump-in-a-nostalgia-time-machine-01px4sv
Database Dump
Scraping the data (particularly the 90s web pages) wasn't easy due to broken and inconsistent markup so I have posted a database dump in case anyone else wants to play with the data.
Playlists: 1,694
Tracks: 201,316
Approx. Play Time: 1 year, 173 days, 5 hours, 46 mins
https://github.com/patrickgalbraith/rageagain (Source code and data repo)
Changelog
17th January 2020
Features
12th June 2017
Features
Adjusted Youtube search algorithm to ignore Aria chart information and de-rank reaction and karaoke videos
4th March 2013
Features
Migrated to new sever (initial load should be significantly faster)
Finally implemented listing by special
Updated to jQuery 1.9.1
3rd September 2012
Features
Updated to include latest playlists
New special playlist; Top 200 which plays the most played tracks in ascending order (i.e. most played first).
Individual playlist/tracks are now bookmarkable and browser back button works
Keyboard shortcuts (spacebar = pause/play, arrow left = prev, arrow right = next)

Note: If you click on the video you may need to click outside of video for the keyboard events to trigger again. This is because the video will capture any keyboard events.

Added anchor links to quickly skip to specific year.
Added warning for users on unsupported/outdated browsers.
Updated jquery to 1.8.1 (mainly fixes player not appearing in Internet Explorer 8/9)
Bug Fixes
Fixed issue with tracklist being capped at 200 which caused the first tracks to not be played.
Massive database overhaul

Fixed broken 1999 playlists
Added 30+ missing/incomplete playlists
Removed a few duplicate playlists
Removed all duplicate tracks (some tracklists had been entered twice)
Fixed tracks containing unescaped html entites and tags
29th August 2012
First public release
28th July 2012
Private release